Seasonal
SEASONAL FLOWERS ~
SPRING, SUMMER, FALL, WINTER
BY TOWNE FLOWERS
TOWNE FLOWERS, HOME FURNISHINGS & DECOR maintains an extensive selection of fresh seasonal flowers all year long. The easiest way to select the right floral arrangement is by starting with color... SPRING FLOWERS are usually softer, pastel colors (pink, cream, lavender), SUMMER FLOWERS are often bright and bold (red, yellow, purple), FALL FLOWERS are heavy and rich (golds, oranges, rusts, browns) & WINTER FLOWERS are crisp and clean (reds, whites).
Still not sure what to send? Call (281) 999-0890 and one of our floral designers will be happy to create a custom seasonal floral arrangement for you.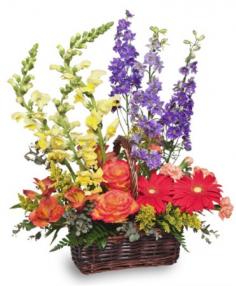 SUMMER FLOWERS BY TOWNE FLOWERS
As Spring turns into Summer, things begin to heat up at TOWNE FLOWERS! We still create our floral designs with the same flowers, such as carnations, gerbera daisies, roses, lilies, and snapdragons, but the color palette shifts from soft, pastel colors like lavender, peach, and pinks to bright, bold, & cheerful colors like orange, purple, red, and yellow. Summer flowers are happy flowers! Make someone's day and let TOWNE FLOWERS create a special SUMMER floral arrangement for you!
If you would like to discuss your flower selection with one of our floral designers, please contact us at (281) 999-0890.
SPRING FLOWERS by TOWNE FLOWERS in SPRING, TEXAS
Ready for Spring? In Spring, Texas TOWNE FLOWERS is always ready for SPRING
Bring on the carnations, gerbera daisies, iris, lilies, snap dragons, tulips, and let's put a Spring in someone's step!
Need help? Call us at (281) 999-8090 to speak with a floral designer who will help you choose the perfect flowers for your special delivery!